Comprehensive guidance
to support your needs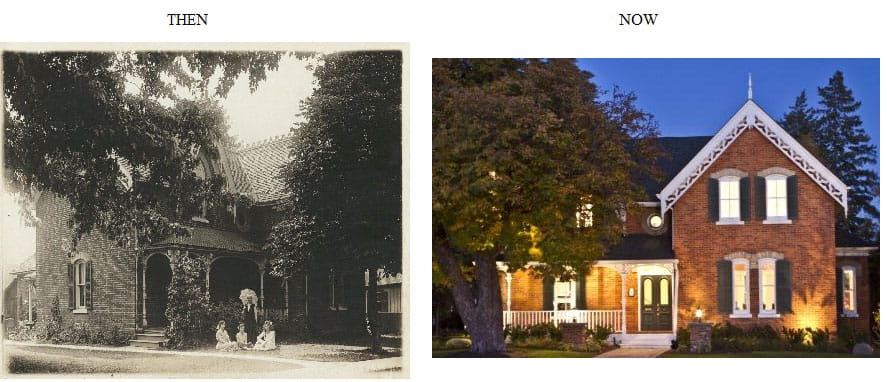 The Alexander Fleury House (Description courtesy of Heritage Markham)
The Alexander Fleury House is an outstanding example of Gothic Revival architecture. Its L-shaped plan, steep gables ornamented with pierced bargeboards, pointed-arched window in the front gable, and fretwork veranda are characteristic features of this picturesque architectural style. The Gothic Revival was a popular mode of building in Ontario from the era of Confederation to the close of the 19th century. The patterned brickwork, with a red brick body accented with buff brick quoins and arches, adds to the decorative effect, and is typical of brick houses constructed in Markham during this time period.
The house was constructed in 1880 for Alexander Fleury (1824-1911). Alexander was the son of Joseph Fleury Sr., who was born in Quebec but moved to York County in time to serve as a private in the War of 1812. At his father's farm in Aurora, Alexander Fleury began a foundry business casting simple farm implements. In 1857 his younger brother Joseph Jr. joined him in the implement manufacturing business in Aurora. Joseph Jr. is credited with making the first iron plough in the Home District and the Fleury name became famous worldwide for their iron ploughs. In 1865, Alexander sold his interest in the business and relocated to the Markham Village, where he operated under the name A. Fleury and Sons at the old Phoenix Foundry. He later moved the business to the Nichols Foundry. After two devastating fires, Alexander Fleury moved his company to Stouffville in 1885.
Today the house is better remembered as the Koch Maternity Hospital. In 1930 the old Fleury Home was purchased by Nettie Koch who was a registered nurse and midwife. Local doctors, tired of running to remote farms to deliver babies, encouraged Ms. Koch to establish a central location where mothers could receive care before and after birth. Over 1,100 babies were born here between 1937 and 1954. The Maternity Hospital occupied the second storey and included a delivery surgery room, a recovery room and bedrooms. The maternity hospital closed when modern maternity facilities were opened in Newmarket and Scarborough.
In 1963 Nettie Koch sold the home and nursing care business to Elsie Gower. The house returned to residential use and was sold by the Gower family in 2008 to Robert Smith Financial Inc. It is now a Financial Services office.